Sam Hutch
Product designer
Thicket
Help communities identify and solve complex social problems - such as recycling water in the fracking industry, evaluating healthcare solution effectiveness, and exploring the impact of local community services
Problem
The existing community onboarding process required a lot of involvement from Thicket employees.
Goal
Reduce the amount of time Thicket employees spent onboarding users, collecting data, and analyzing results by enabling clients to perform these tasks independently.
↔ Scalability
Goal
Usable for large groups (a minimum goal of 50-100+)
Hypothesis
The more inclusive data that can be collected, the more holistic & accurate map of the problems and potential solutions are.
KPI
Number of workshop participants at a single time
Starting point
The original process only allowed a maximum of 10-15 people can participate at a time
↩︎ Flexibility
Goal
Onboard participants at different points and allow for error correction
Hypothesis
Making the onboarding process more flexible will allow more data to be collected and mistakes to be corrected more easily.
KPI
Number of projects able to be constructed during the templated onboarding process
Starting point
The original onboarding was a single one size fits all process with high complexity and no room for error
⟳ Time
Goal
Workshop can be performed live, allowing for live analysis as well
Hypothesis
Live onboarding and data collection keeps people engaged with the tool and helps solve problems faster.
KPI
Amount of time it takes to set up a new project
Starting point
Originally took anywhere from 2-3 weeks or more to set up a project before we could even start collecting data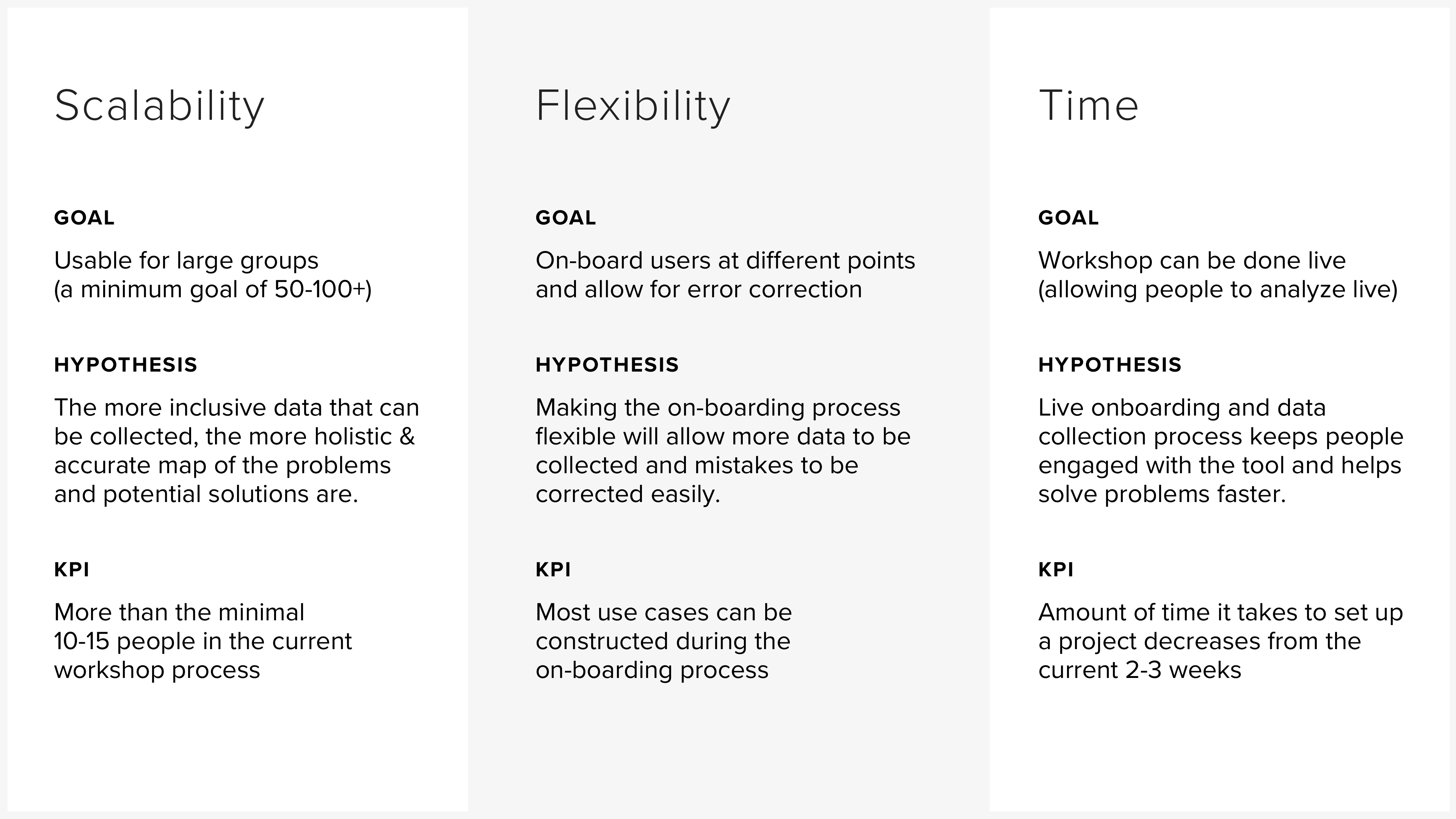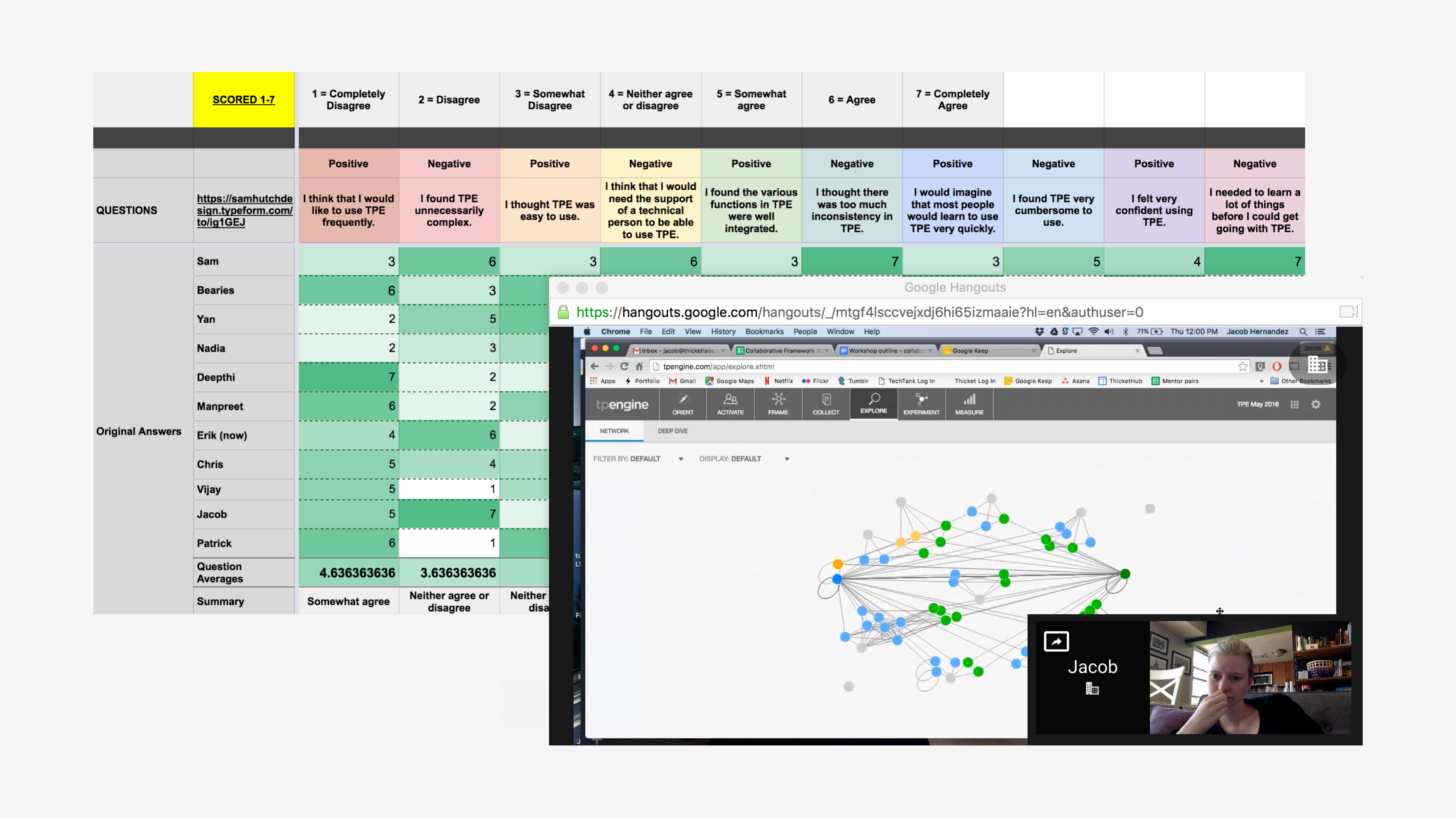 User Testing & Analysis
Collected observational and survey based user feedback from our previous platform iteration, a basic web tool designed for internal use

Organized findings into a presentation to align the team on the new direction and gain more focus as to what the problems were

Concluded that we needed to redesign the tool to be simpler and more accessible in the following ways...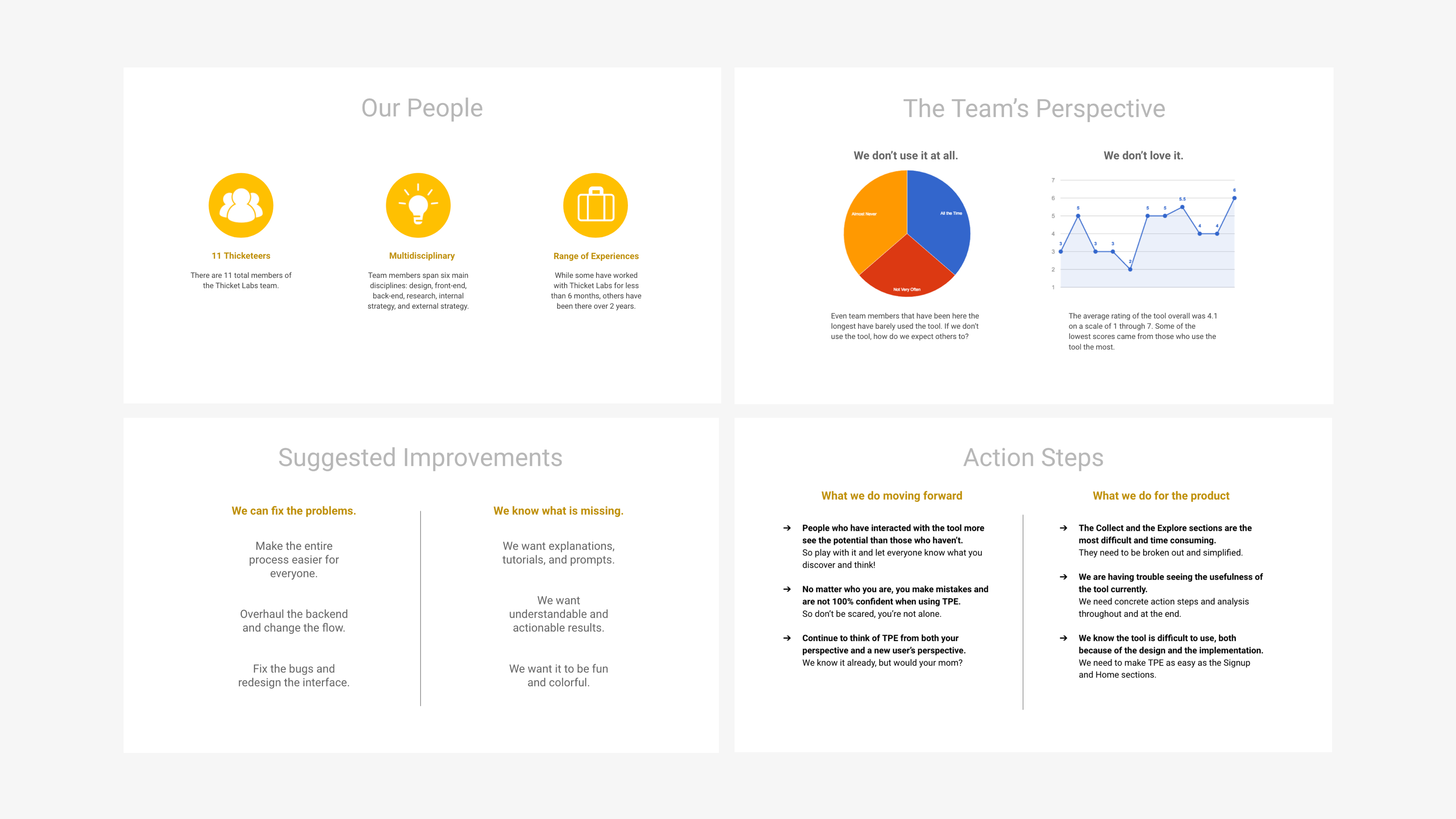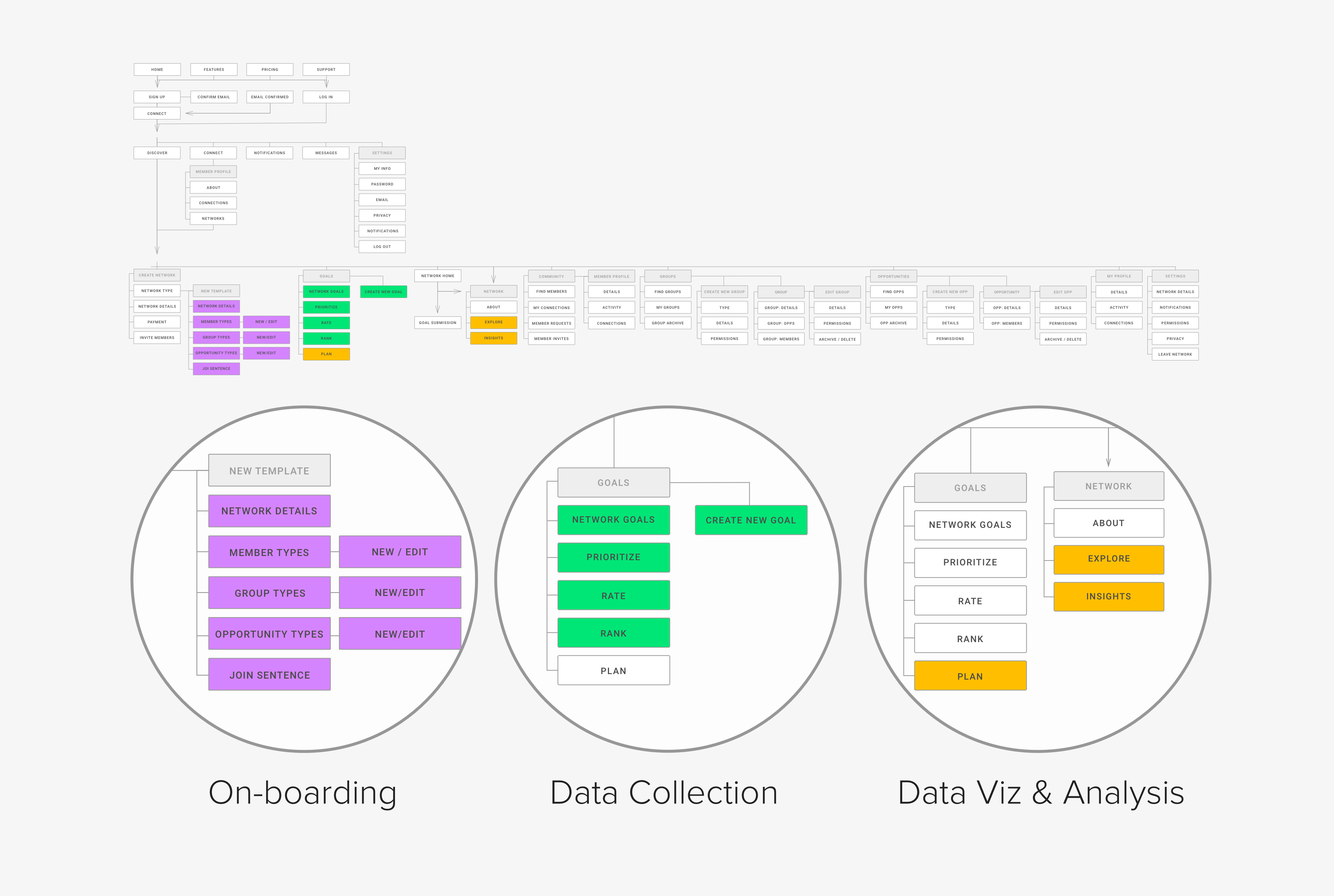 Sitemapping
Deconstructed past projects and other relevant websites then reconstructed them for our specific needs.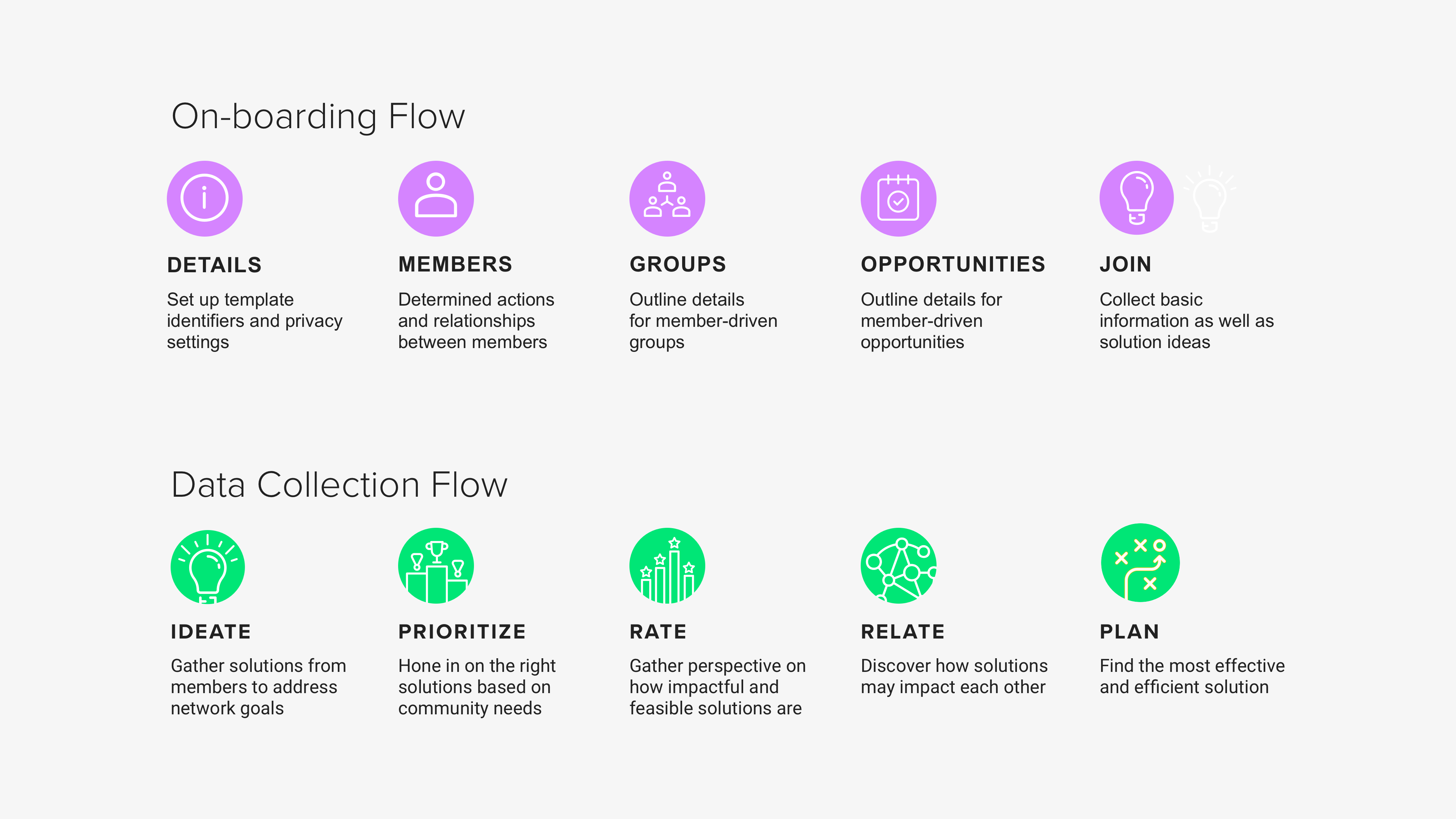 Userflows
Simplified the user flows to be as minimal as possible, 4-5 steps maximum.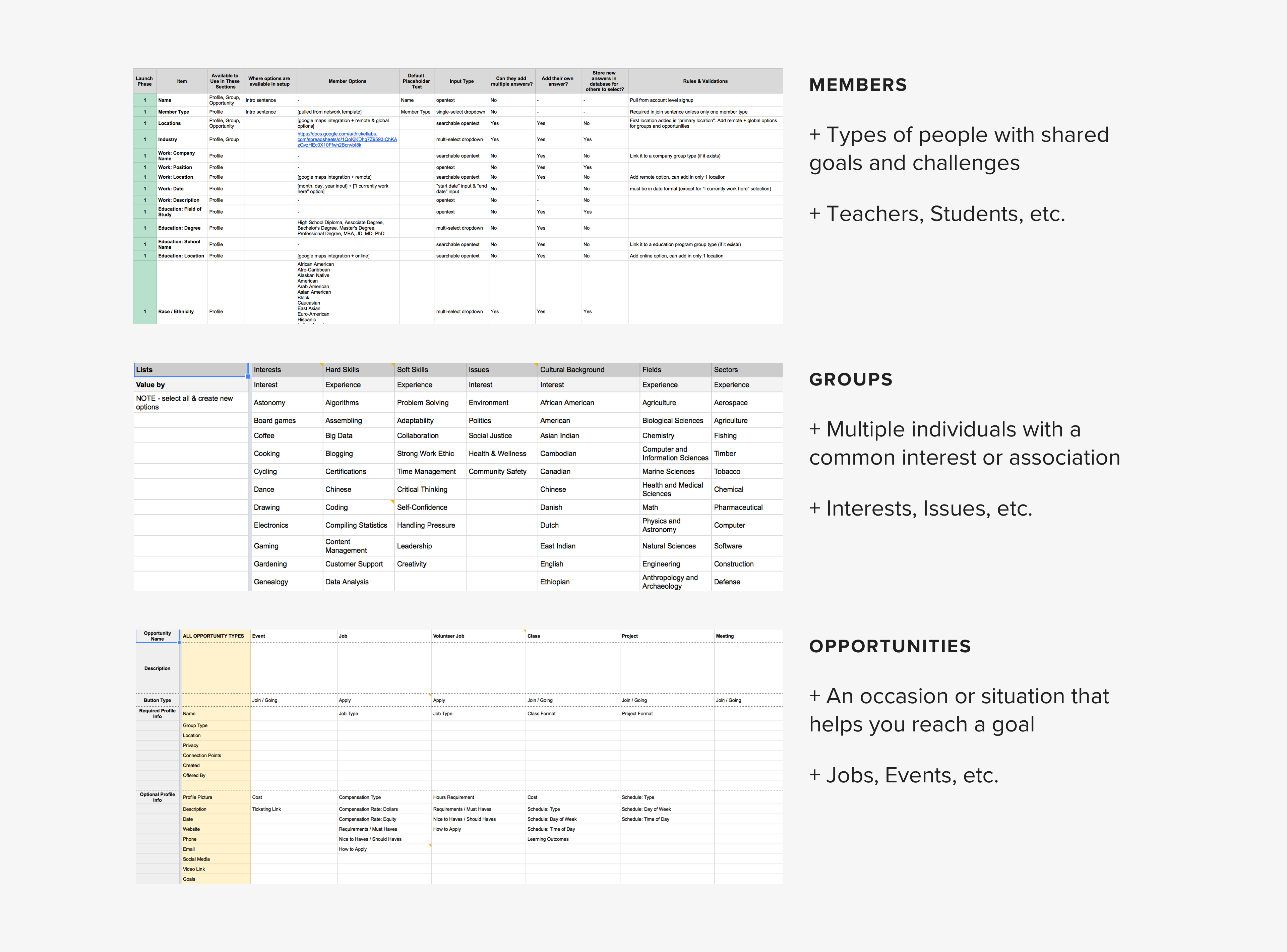 User Types & Needs
Defined what data to collect, determined through past experiences and expected future needs based on client conversations

✔ Reduced onboarding time from 2-3 weeks to 15 minutes
✔ Maximum data population size increased 10x from the previous manual process, from 10-15 people at a time to 100+